Back to all posts
Posted on
End of the Year Message from Mr. Walker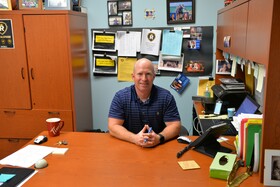 Hello Students and Staff of CLHS:
The school year of 2018-19 is winding down, and with that comes an opportunity to reflect on a few highlights from the past 10 months. A great school is about many things—the academic course delivery and student results, the variety and availability of exciting and interesting electives, the range of extra-curricular programs and activities—but what makes a school truly great are the people who attend and work there.
After recently watching and taking part in our Athletic Awards night, our Academic Awards ceremony, and finally, our Grade 12 graduation, I am struck by just how much our staff and students do, and how well they do it, in the course of a year. Our drama club produced another amazing production this year that entertained and moved audiences with skilled student performances. Our instrumental band, in what has now become true CLHS band fashion, won praise and accolades for many competition wins. The CLHS Enviroyals Club secured enough funding to have hand-dryers (replacing paper towel use) installed in our school next year. Our Athletic highlights include trips to Provincials in Volleyball, X-country,  Badminton, and Track and Field. Our various clubs: the GSA, Leadership, Environment, Best Buddies and others gave many other students the chance to shine, to advocate, and to show what it means to be a Royal.
One true point of pride at our school is our Life Skills and Complex Needs programming. The level of inclusion for all kids at CLHS is heartwarming, but also very normalized, which is as it should be. We have become provincial Ambassadors of Unified Sports with school participation in three different Unified Athletic events, which included having a team compete and win at the ASAA Track and Field Provincials. 
I am very lucky in that I don't just get to be a principal at CLHS; I am a father of students here, a bus driver for many events, an occasional teacher, a coach, a field study assistant, an Outdoor Ed helper, a counsellor, and above all else—a fan. We have had another amazing year at CLHS with incredible results due to the INTEGRITY, COMMITMENT, and PRIDE of our students and staff. To all our returning students: have a great summer! To all the students who are joining us next year from other schools and other places: we are happy you are coming to CLHS. Get ready for a great year.
To the graduates of CLHS: Thank-you for being strong leaders this year. Grade twelve students set the moral tone of a high school and you were good role models. I wish you all the best of luck in whatever occupation life has in store for you. Hopefully, the staff at CLHS has helped to give you some tools for your journey. Remember that wherever life leads you, and whatever you do with your future, memories of the past will keep you going straight and will give you strength when the road gets rough. If you are going to be truly successful in life you need to learn something new every day; we are proud to have been part of that learning for you for the last four years.  Good luck to you in life.
Mr. Dustin Walker
Principal, Cold Lake High School