Back to all posts
Posted on:
Nurturing Positive Connections: Fostering Healthy Relationships in November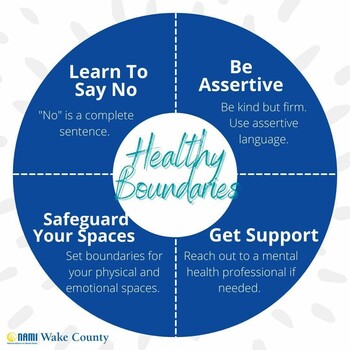 Hello, amazing parents and students!
As November graces us with its presence, we embark on a journey dedicated to the art of fostering positive connections and relationships. This month, we'll explore the magic of building meaningful bonds that enrich our lives, from friendships that light up our days to family ties that provide unwavering support, and beyond. Join us as we delve into the heartwarming realm of nurturing healthy connections, enhancing our well-being and spreading positivity throughout our lives.
Check out this video on how to set healthy boundaries:
https://www.youtube.com/watch?v=XFAEeOd3H9k
Resource Roundup: Nurturing Healthy Connections and Relationships
Explore these carefully curated resources suitable for parents and students of all ages, designed to inspire positivity and cultivate healthy connections:
For more resources, check out the Healthy Relationships page on the NLPS website.
Reflecting on Last Month: Your Insights Matter!
In October, we explored the beauty of gratitude. Share your experiences: How did our previous blog post influence your family? We're eager to hear the feedback and ideas that brought positivity into your lives.
Nurturing Healthy Relationships: Tips for Students
Building and maintaining healthy relationships is an important part of looking after our mental health. Here are 6 top tips to support you with yours.
1. Get to know yourself
Take the time to appreciate yourself and get in touch with your emotions to be able to express yourself clearly and more effectively. 
Not knowing how to regulate your emotions and express them healthily can negatively affect your mental wellbeing.
2. Put in the work 
Healthy relationships are not found but built.
A healthy relationship needs commitment and willingness to be accommodating to each other's needs.
Setting boundaries is not only about what you don't want or like in your relationships, but also about letting the people around you know what you appreciate. 
Think about and let others know where your boundaries are; respecting your time alone for example.
Doing this can take the pressure off your relationship to commit to anything unrealistic.
4. Talk and Listen 
All relationships have disagreements and that's ok. what matters is how you talk and listen to one another.
Listen to understand, rather than listening to respond.
Don't be afraid to express your emotions or vulnerabilities with people you trust.
5. Let go of control
A lot of life is about how we react to our experiences and encounters. Knowing that you can only really control what you do and not what anyone else does will save you time and stress. 
6. Reflect and learn
If you have a healthy way of expressing your feelings, you're able to react to other people's in a healthy way. Being angry with someone often comes from a place of feeling hurt and upset. if you can recognize that, you can communicate it, and build better relationships with others.
Reflect on the relationships that work best in your life, what qualities do these relationships have, and how can you bring these qualities into other relationships?
Connect with Our Student Advocacy Counsellors: Here to Support 
Seeking guidance or want to discuss well-being? Our Student Advocacy Counsellors are here for you.
Our Counsellors are:
Erin Mac Donald (A-K)  erin.macdonald@nlsd.ab.ca
Kimberly Turchyn (L-M) kimberly.turchyn@nlsd.ab.ca
Reach out by email or call 780-639-0039. Let's continue our journey of growth and gratitude together.
Here's to a November filled with nurturing relationships, flourishing bonds, and a canvas of shared joy. Let's celebrate the power of positive connections!