Back to all posts
Posted on:
October 2022 - Positive Mindset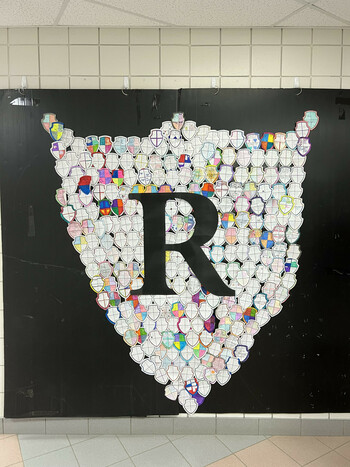 My name is Lindsay Iroume and I have been the Student Advocacy Counsellor at Cold Lake High School since 2009. I have a strong athletics background and believe in the importance of sport in youth's lives. I was awarded a full ride scholarship to play college level Volleyball when I graduated. I earned a Bachelor of Social Work degree at that time. I was very fortunate, but also worked extremely hard to achieve my goals. I have been employed by the school division since 2005. I have 5 wonderful children. My partner and I just bought a farm and I've been filling it with many farm animals. A farm, after all, needs life! I have 5 goats and they are spoiled. I also enjoy learning how to make pottery and growing as many plants as I possibly can. I love my role at CLHS and enjoy seeing positive change in the youth I work with. I am so proud of them when I see them reach their goals and graduate!!!!
My name is Erin MacDonald and I have been the Student Advocacy Counselor at Cold Lake High School since 2021. I graduated from Sir Sandford Fleming College in Peterborough, Ontario in 2004. Throughout my career I've worked in treatment facilities for at risk youth. I've also spent time working with persons with disabilities and was a coordinator for an addictions treatment center on the Alexander First Nation reserve. I strive to be the person I needed when I was in school. In my free time I love to travel! I've been to Germany, Mexico, the Bahamas and various places in the USA. I moved to Cold Lake just over a year ago with my 2 goofy Corgis and family of cats. I love spending time with students making connections and helping them through any issues they need help with as well as celebrating their successes. My door is always open for those who need a safe space or just a break or a yummy snack. 
This month we are focusing on fostering a positive mindset which will help us reduce stress and anxiety. Our school's philosophy is Integrity, Commitment and Pride. We instill these values in our youth by role modeling and holding them accountable.  Each year we as a collective student body create a school collaborative project that helps kids connect and see what individual goals they all have, and their hopes for the school year. This project starts all the students at CLHS off on a positive mindset for the year.
Here is some more information about fostering a positive mindset 
https://positivepsychology.com/positive-mindset/
https://www.wikihow.com/Have-a-Positive-Attitude-(for-Teens)
Teens Can - Resilient teens and positive mental health\
https://www.youtube.com/watch?v=srH5-JBmC5E
If you would like one of us to connect with your child or your family, you can contact us at the school at 780-639-0039.
For more resources, check out the Positive Mindset page of the NLPS website.